Qualified educator in early childhood with over 10 years of experience. Over the years, I have learnt that change is the only constant in life. Thus, the ability to adapt and be flexible in my teaching and/or leading approach is essential as it determines the effectiveness in how I communicate with those around me. I believe to effectively lead and/or teach requires me to actively listen with the aim to understand and reflect on how to properly facilitate learning in young children. As mentioned by Mr. Alvin Toffler, "The illiterate of the 21st century will not be those who cannot read and write, but those who cannot learn, unlearn, and relearn.
I am a firm believer in the effectiveness of inquiry-based learning. It is one that allows the children's voices to be heard and have autonomy over their own learning with the teachers as facilitators. As they have fun and are kept engaged in the various learning experiences, their critical thinking skills are nurtured when making sense of their learning. What draws me even more to this approach is how the learning goes both ways between the educators and the learners. With different perspectives, it teaches one to embrace and respect each other's differences which then leads to a richer, deeper and more meaningful learning experience.
Ms Kirsten
English Teacher
I am an energetic, creative and flexible person and thrive in a classroom setting. As a mother of two and a teacher I am committed to developing young minds in the classroom and at home from a holistic perspective. I believe all spheres of a child's development need to be nurtured carefully in order to raise well balanced children who will become well adjusted adults later in life. I have spent 4 years working and studying to gain a Bachelor of education in the foundation phase.
I adore working with children, and pride myself in creating a warm and friendly environment where students feel safe and motivated to explore and learn in order to reach their highest potential. I try to instill the value of respect for each person's individuality as well as celebrating diversity of cultures within the classroom. As a British citizen raised in South Africa, as well as my previous teaching experiences in bilingual settings I am well experienced in diverse classrooms.
Learning can only take place in a warm environment where learners feel safe and free to explore and express themselves without fear of rejection. I believe in building each learner up by highlighting their individual strengths in order to create the confidence needed to tackle challenging areas of their learning journey. I strongly believe in the philosophy of enquiry based learning through varied methods and strategies in order to build creative thinkers committed to lifelong learning.
I adore facilitating young learning through my creativity and have found Pegasus to be the perfect place to do this. I am so pleased to be a part of the school and look forward to meeting you all. Thank you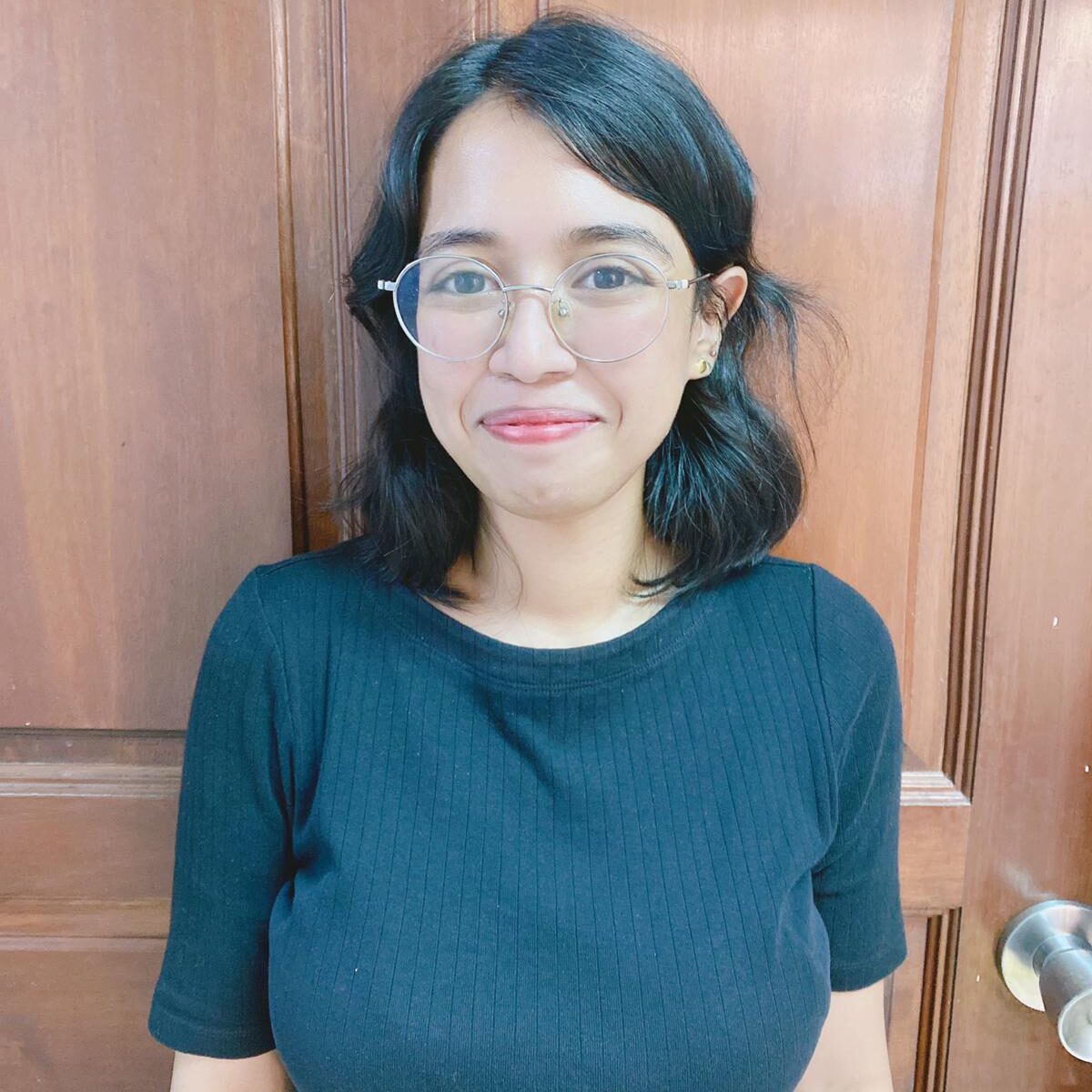 Ms Aishah
English Teacher
Hi everyone, I'm Ms Aishah holding a Bachelor in Early Childhood Education with Distinction from Deakin University. With more than 7 years of experience, I believe that children learn best when they are involved in their learning. During my free time, I enjoy going to the beach and watching thrilling movies which ignites suspense and excitement with my family members. With my experience with different types of behaviours, I look forward to bringing out the best in your children and to personally meet you!
Ms Maryanne
English Teacher
Hello, I am Ms Maryanne. I believe in the philosophy of Loris Malaguzzi, "Our task is to help children to communicate with the world, using all their potential, strengths and languages and to overcome any obstacle presented by our culture." And I stand with him on this idea, there is no greater task in helping the next generation be confident with themselves and develop their capabilities to equip them as they grow older.
I believe that being an early childhood educator is my calling. I dedicate myself in helping the younger ones become the best version of themselves.
Maggie Laoshi
Mandarin Teacher
With over 10 years of teaching experience, collectively in Singapore and Taiwan, Maggie Lao Shi has worked with children ages 2 all through to 6 years of age. Her resilience aided her in adapting to the different learning and teaching approaches adopted by various schools
Over the years, Maggie Lao Shi believes that effective learning takes place when children are given the autonomy over their own learning. In additional, she enjoys embedding play experience into the lesson implementation, "Children learn best when they are engaged with the learning experience. I think games are one of the best ways to teach children language concepts."
Ying Ying Laoshi
Mandarin Teacher
Hi, how are you. ☺️ My name is Ying Ying Gu. You can call me Miss Koo or Ying Ying laoshi. I am from Malaysia and will be a competent Chinese language teacher.
I graduated from Raman University with a degree in Early Childhood Education. I have almost 2 years of experience in the Early Childhood industry. I have been working with children from 3 to 6 years old since I started my internship and I have had many different experiences. At the same time, I am learning and growing with the children in education.
I believe in Learning through play philosophy of teaching and learning. Learning through play is fun and meaningful. This is how children grow to love learning.
I look forward to meeting and working with you all!
Thank you
亲爱的家长们:
嗨,你好。☺️ 我叫古颖盈。你们可以叫我古老师。 我来自马来西亚,将胜任为一名华文老师。
我毕业于拉曼大学幼教系。在幼教领域有1年半的经验。从实习开始开始与3至6岁的小朋友有的接触与互动,从而获得很多不一样的体验。与此同时,在教育中与孩子一起学习成长。
对于教学理念, 我深信Learn through play的教学与学习理念。透过玩乐让孩子学习,课程快乐又轻松,学习也变简单了。 从而让孩子们渐渐地喜欢学习。
学无止境, 期待与大家的相见与合作!
谢谢
Libby Laoshi
Mandarin Teacher
Hi everyone! I am Ms Libby, I joined the early childhood industry in 2010 and the initial reason I joined this industry is because I purely like children.
After I joined this industry, I understand more deeply the importance of teaching and learning in Early Childhood.
Mr. Tao Xingzhi once said, "Teaching people starts at an early age, and young children are like seedlings.
I am very happy to join this school and accompany our lovely children to grow up happily and healthily in a quality learning environment.
大家好,我是MS Libby ,我在2010年就加入这个幼教行业,加入这个行业最初的原因是我纯粹的喜欢小孩子。
进入这行后,我更深刻的了解到幼教的保教的重要性。陶行知先生曾说:"教人要从小教起,幼儿如幼苗,必须培养得宜,方能茁壮成长。
我很开心能加入这所学校,陪着我们可爱的孩子们一同在优质的学习环境中快乐健康的成长。
Miyoko Sensei
Japanese Language Teacher
皆様 はじめまして。
数ある学校の中から当校に興味をお持ちいただき厚くお礼申し上げます。
私のキャリアは日本で、労働省の外郭団体にて職業訓練にかかわっておりました。
実際にキャリア相談や、離転職者の方の就職支援などの現場で、どのような状況となっても、自分の道を自分で見つけられる方と、過去等にとらわれたりして一歩進めない方等様々な方とお会いする機会がありました。
その中で、その人らしく生きていくために、どのようなサポートができるのか、悩んだ末に、日本産業カウンセラー協会のシニアカウンセラーや、日経団連のキャリアコンサルタントなどのほか、自律訓練法やNLP,SCT、ソーシャルトレーニング、アサーショントレーニング、ホーカシング等、キャリア周辺を軸にして様々な心理学等を勉強しました。
その後、シンガポールでシンガポールと日本にかかわるお仕事をしたり、留学生の相談などのお仕事と並行して日本語教師として十数年努めてまいりました。
自分の経験からこれからの不確定な世の中で一番大切なのは、レジリエンス(resilience:どんな状況でもしなやかに生きる力)だと確信しております。
できれば、私の授業を通じて日本語学習だけでなく、私が今まであってきた、幸せな人生を歩めている、自分を大切にできて、その子に合った形で他人へのコミュニケションができ、自らの人生をデザインできる。そんなレジリエンスの高い人への道に関われたらと切望しております。
ちなみに趣味は合気道です。小さいお友達といろいろな体験ができたらいいなと思っています。
Hello everyone, it is nice to meet you!
My career started in Japan, where I was involved in vocational training at an organization affiliated with the Ministry of Labor. In the field of career counseling and job placement support for people who have left their jobs, I had the opportunity to meet a variety of people, including those who can find their own way in any situation, and those who are stuck in the past and cannot take a step forward.
After wondering what kind of support I could offer to help them live their lives in their own way, I decided to work as a senior counselor for the Japan Industrial Counselors Association, a career consultant for the Japan Federation of Economic Organizations, and as a consultant for other organizations such as Autonomous Training Method, NLP, SCT, Social Training, Assertion Training, Hocus Pocus, and others. I also studied various psychological and other subjects around career such as Autogenic Training, NLP, SCT, Social Training, Assertion Training, Hocus Pocus, and so on.
After that, I worked in Singapore for more than ten years as a Japanese language teacher, while also working in Singapore and Japan and consulting with international students. Based on my experience, I am convinced that the most important thing in an uncertain world is resilience (the ability to live flexibly in any situation).
If possible, I would like to offer my classes not only for Japanese language study, but also for those who can lead a happy life, who can take care of themselves, communicate with others in a way that suits them, and design their own lives, which I have seen in my life. I am eager to be involved in the path to becoming such a resilient person.
By the way, my hobby is aikido. I hope to have many experiences with my little friends.
Pegasus International Preschool
72 Keng Lee Road
Leve 2 & 4 (within the Kim Mui Hoey Kuan Building)
Singapore 219248
Tel: (65) 6291 8286
Email: sgpegasus@yahoo.com
Address: View in Google Map